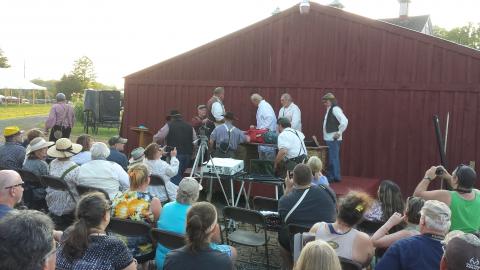 4:00 pm
Historic Daniel Lady Farm
1008 Hanover Street
Gettysburg, PA 17325
United States
The Civil War Impressionist Association take the Fields of the Historic Daniel Lady Farm as the U.S. Medical Corp!
For this special event, the ensemble's impressions include military surgeons, staff, hospital commissary and embalmers. These talented living historians will be discussing and demonstrating surgical techniques, nutrition, medical practices, and advancements made during the war. Original medical instruments, equipment, supplies, and maybe a touch of fake blood add a dose of realism and humor to their presentation making it appropriate for all ages.
The weekend program explores what the people of Gettysburg experienced in the days and weeks following the 1863 battle in coping with the wounded, dying and dead. Held at the Historic Daniel Lady Farm, a Confederate field hospital, the focus will be on the medical advancements made during the war and the many firsts that happened at Gettysburg. A number of these innovations are still used in medicine today.
The program will take place on August 25th and 26th from 10 a.m. to 4 p.m. in association with the U.S. Americans Medical Corps.
Admission: Adults: $10. Children 15 and under admitted free. Includes tour of the historic Daniel Lady farm house and barn.