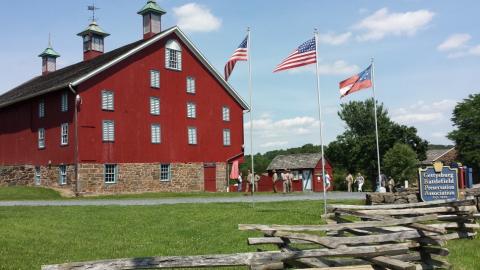 9:00 pm
Inn at Herr Ridge
900 Chambersburg Road
Gettysburg, PA 17325
United States
This year's dinner will be at the Inn at Herr Ridge, also popularly referred to as Herr's Tavern.  The dinner is a recognition of the Gettysburg Battlefield Preservation Association efforts over the past year to carry on the legacy of Gettysburg for future generations. At this year's dinner, officers of GBPA will provide a report on the organization's exciting plans for 2019, the 60th anniversary of GBPA. Members of GBPA will not want to miss this dinner.  There will be music from B.S.A. Venture Crew 1861, portraying the 1st Pennsylvania Reserves Volunteer Fife & Drum Corps.
Cocktails start at 6:00 pm and dinner at 7:00 pm.  Dinner choices are Butter Basted Chicken or Dry Rubbed NY Strip Steak. Ticket price is $35 for an individual and $65 for a couple. You may purchase tickets online using our Paypal account or by sending a check to GBPA, P.O. Box 4087, Gettysburg, PA 17325 at least one week before the event. Please mark on your payment your dinner choice(s).
GBPA will be selling raffle tickets at the Fall Skirmish event for a 150th Gettysburg Anniversary Henry Rifle. The rifle, chambers for .22 caliber bullets, has a handsomely-engraved stock commemorating the epic clash at Gettysburg in July 1863. Tickets are $5 each or 5 for $20. The winning ticket will be drawn at the conclusion of the annual GBPA banquet on November 16, 2018.