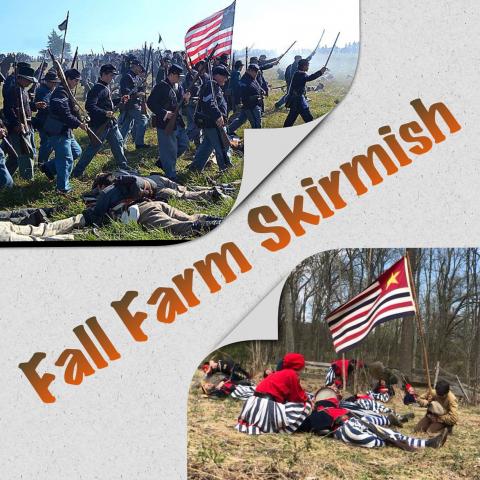 4:00 pm
Pre-registration is now closed. Tickets are still available on-site.
The Gettysburg Battlefield Preservation Association will be presenting FALL FARM SKIRMISH at the Historic Daniel Lady Farm, 1008 Hanover Street Gettysburg, PA on October 20th and 21st.
Units of the first and second regiments of the Federal Volunteer Brigade Face off with 7th Louisiana Infantry, in a live action skirmish on over 10 acres of historic land held by the Confederates during Gettysburg's famous 3 day battle!
Tour the Barn turned hospital, where wounded soldiers retreated to from the battle of Culp's Hill and left (their mark) still visible today. See the house of the Lady family that comforted their officers, but left the "stains" of devastation behind for them to contend with. 
Live Action Event Both Days! Antiques, Living History, Food, and more all for $10 per person for 16 & up! As always Kids are Free!
GBPA will be selling raffle tickets at the Fall Skirmish event for a 150th Gettysburg Anniversary Henry Rifle. The rifle, chambers for .22 caliber bullets, has a handsomely-engraved stock commemorating the epic clash at Gettysburg in July 1863. Tickets are $5 each or 5 for $20. The winning ticket will be drawn at the conclusion of the annual GBPA banquet on November 16, 2018.