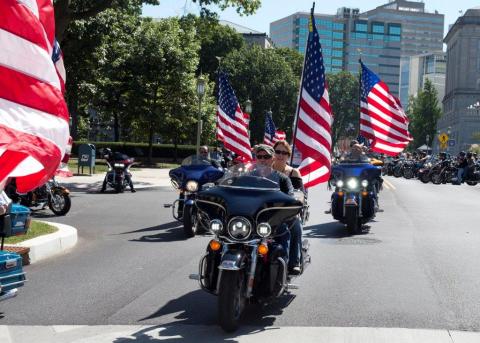 Commonwealth Avenue behind the State Capitol in Harrisburg
Commonwealth Avenue
Harrisburg, PA 17120
United States
The 19th Annual Ride for the Monuments from Harrisburg to Gettysburg is sponsored by the Alliance of Bikers Aimed Toward Education (A.B.A.T.E.). It supports the Pennsylvania Gettysburg Monuments Trust for maintenance and upkeep of more than 140 monuments and markers on the battlefield that memorialize the actions of Pennsylvania troops. A portion also benefits upkeep of the Gettysburg Battlefield Preservation Association's Historic Daniel Lady Farm.
Registration begins at 11 a.m. outside the State Capitol Building's East Wing. Welcoming ceremony: 12:15 p.m. Ride departure: 1 p.m.
Open to all interested riders. Rain or shine. Registration $10. Information at www.gbpa.org and www.abatepa.org.