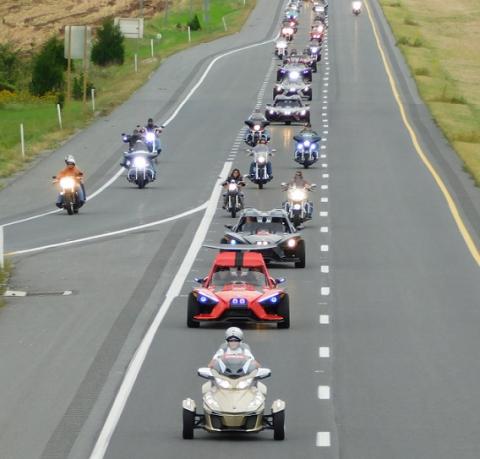 Another strong turnout
(October 11) -- The 18th Annual 'Ride to Gettysburg' held on Sept. 22 from Harrisburg drew several
hundred riders from around the commonwealth, according to ride organizer, state Rep. Harry Readshaw, D-
Allegheny.
The event sponsored by the Alliance of Bikers Aimed Toward Education (A.B.A.T.E.), supports the
Pennsylvania Gettysburg Monuments Trust. Created by Readshaw in 1997 as the Pennsylvania Gettysburg
Monuments Project, the trust helps assure future repair and maintenance of the commonwealth's more than 140 monuments and markers on the Battlefield at Gettysburg. A portion also goes to the maintenance of the Historic Daniel Lady Farm in Gettysburg, restored and operated by the Gettysburg Battlefield Preservation Association,
"I was thrilled to see another strong turnout this year," Readshaw said. "This event is such a terrific
opportunity for Pennsylvania's vibrant motorcycle community to come out and show their patriotic spirit while
contributing to a cause that helps preserve a vital part of the commonwealth's heritage."
A historic group of women bikers, the Motor Maids, wearing white vests and led by former state Rep.
Teresa Forcier, served as the ride marshals to Battlefield Harley Davidson in Gettysburg. Also attending were state Rep. Dan Moul, R-Adams, and the Zembo Shrine Mounted and Motorcycle Units.
After a pre-ride ceremony at Soldier's Grove at the State Capitol Building, Readshaw and Moul recognized
Charlie Umbenhauer, of A.B.A.T.E. of Pennsylvania, for his years of support and dedication to the Monuments Project. Other participants received certificates for their continued support.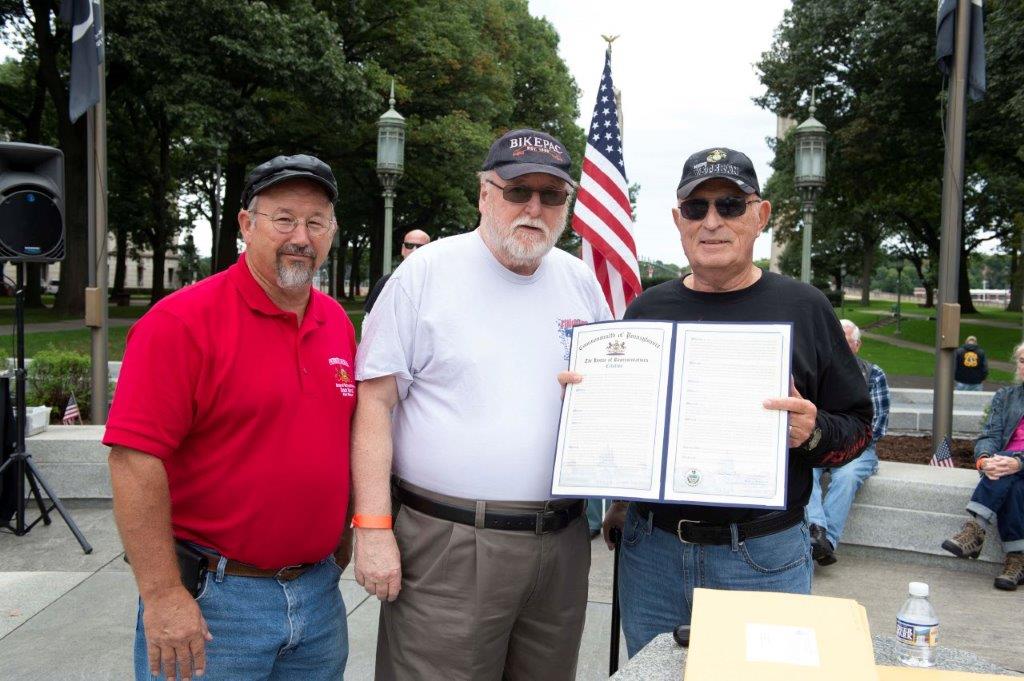 The God Bless America Motorcycle Color Guard then led approximately 375 riders to Gettysburg.
The event featured both traditional motorcycles and "slingshot" three-wheeled bikes such as the one in
which Readshaw led the procession, which was provided by Hernley's Slingshot and Indian Motorcycle in
Elizabethtown.
Readshaw established the Monuments Project to fund desperately needed cleaning and repairs for
Pennsylvania monuments, most of which were erected by veterans of the battle with the assistance of allocations approved by the state General Assembly.