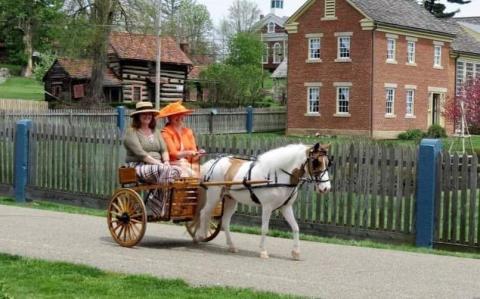 Family Fun Farm Frolic on Sept. 29
(September 6) – The Adams County 4H will team-up with the Rebecca Lady Society for a family-oriented
"down on the farm" day on Sept. 29 at the Historic Daniel Lady Farm, 1008 Hanover Street in Gettysburg.
From 10 a.m. to 4 p.m. that day, farm and service animals will be on hand to interact with children and
adults alike.
Traveling in from Warren, Ohio, will be Dr. Holly Ray and her friend, Lil' Comanche, to take visitors on pony
cart rides.
The 4H seeing eye puppy club will have a supply of heart-warming young dogs being trained for service
with the disabled.
Farm Frolic participants will be challenged by crafts like shaking butter and pretzel-making and other
crafts and an opportunity to pose in costumes for old-time photos.
The event and most activities are open for free-will donations.
As always, the historic Lady house and barn tours are $10 per person with children 16 and under admitted
free when accompanied by an adult.