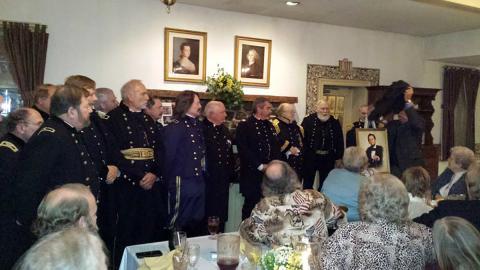 Annual Dinner at Herr Ridge
(November 9) – This year's annual dinner of the Gettysburg Battlefield Preservation Association will be at
the Inn at Herr Ridge, also popularly referred to as Herr's Tavern on the evening of Nov. 16.
The dinner is a recognition of GBPA efforts over the past year to carry on the legacy of Gettysburg for future
generations.
At this year's banquet, officers of the GBPA will provide a report on the organization's exciting plans for
2019, including the 60th anniversary of its creation in 1959.
Part of the presentation will include unveiling architectural drawings for the new Dwight D. Eisenhower
Education Center and Headquarters.
The GBPA acquired the former combined retail buildings and two acres of property adjacent to the Historic
Daniel Lady Farm last year.
Plans are for the structure include a meeting room capable of holding seminars and events, research
library, museum, retail shop and GBPA headquarters offices.
More details will be provided at the dinner, where attendees will be serenaded by the B.S.A. Venture Crew
1861, portraying the 1st Pennsylvania Reserves Volunteer Fife & Drum Corps.
The Inn at Herr Ridge is located at 900 Chambersburg Road just west of Gettysburg.
A social hour will begin at 6 p.m. with dinner following at 7.
Menu choices are Butter Basted Chicken or Dry Rubbed NY Strip Steak.
The ticket price is $35 for an individual and $65 for a couple. They can be purchased online using the GBPA
PayPal account or by sending a check to GBPA, P.O. Box 4087, Gettysburg, PA 17325 at least one week before the event. Dinner choice(s) should be indicated on the payment.