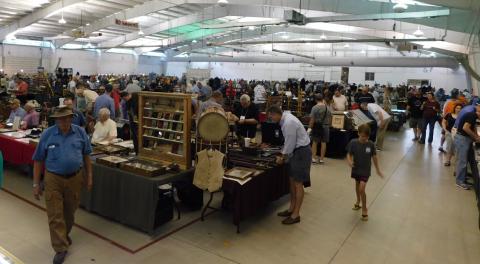 The 44th Annual Artifacts Show
It's the last weekend in June, one week before the July 4th holiday and the Gettysburg Anniversary Committee's annual battle reenactment. The weather is ideal.
But Barb Mowery, President of the Gettysburg Battlefield Preservation Association, is a bit disappointed as she helps oversee the opening of the organization's 44th Civil War Artifact and Collectibles Show.
"We get our best crowds when it's rainy," said Mowery. "When it's sunny and mild like it is today, the pressure is on for people to go to picnics, parks and the beach -- there's no excuses."
But any disappointment was dispelled as one of the event's better crowds fought their way through the sunshine and into the Eisenhower Hotel & Conference Center's Allstar Expo Complex.
The Artifact and Collectibles Show is the GBPA's major fundraising effort.
Attendance for the weekend was pegged at around 750, with 23 of them paying $100 for VIP entrance to the vendor set-up on Friday and first crack at prized acquisitions … double the usual number of VIP ticket holders.
Show organizer Brendan Synnamon, a member of the GBPA Board of Directors, said the surge in VIP opportunities reflected increased overall interest in buying and selling over recent years.
"The vendors liked the turnout," said Synnamon. "People showed up with increased interest and more money in their wallets.
"We had more than 200 vendors showing on nearly 330 tables -- the most ever."
Synnamon said the vendors had offerings ranging in value from 50-cents to tens of thousands of dollars.
Among the tables were a few occupied by exhibitors; there to promote their niche in artifact collection and sharing the legacy.
Edward Max of Chester County, Pennsylvania was there with his wife, Faye, with his display of Pennsylvania regimental and Gettysburg items.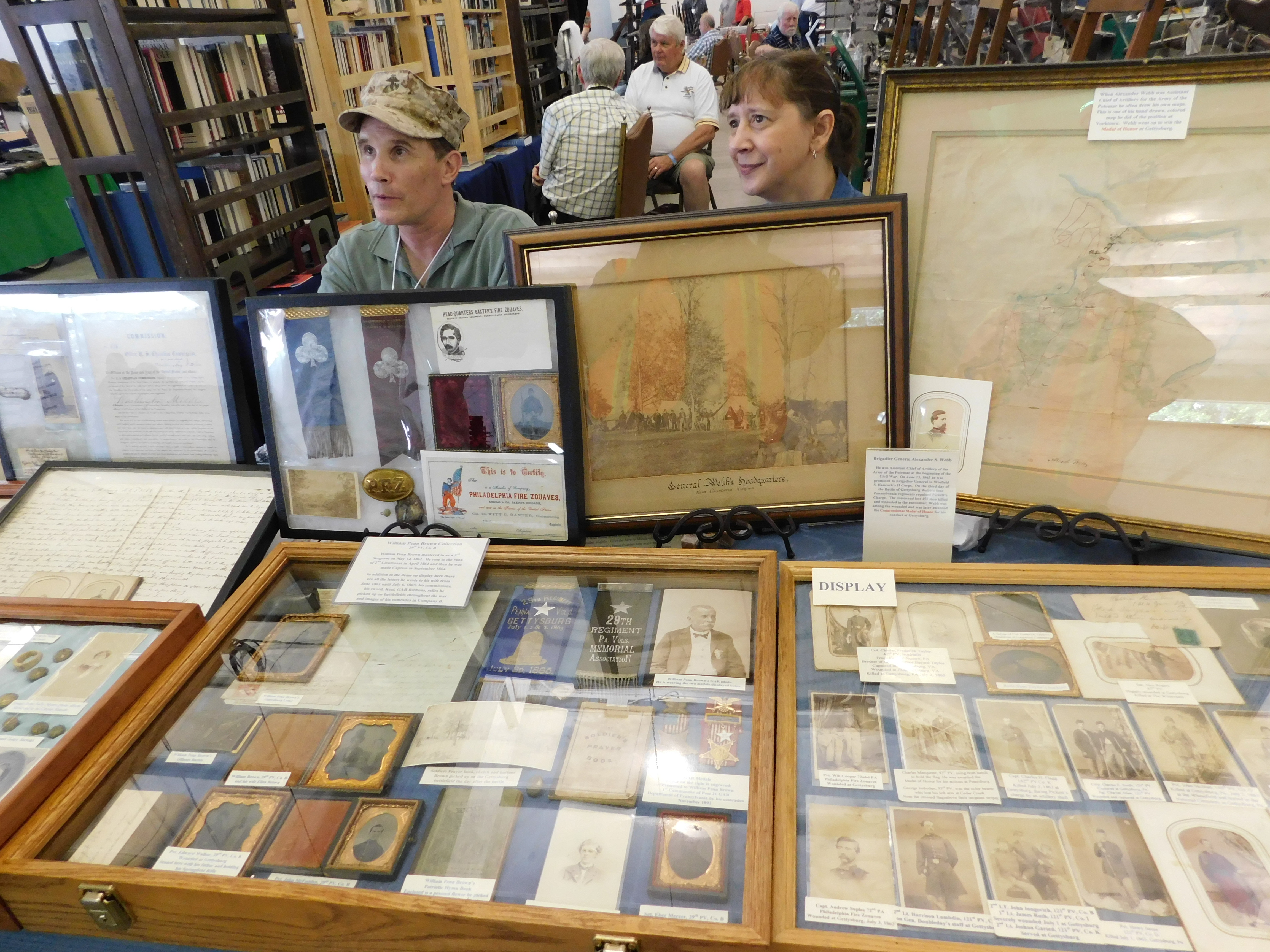 His interest in the Civil War was spurred as a child by seeing a bullet surgeons removed from his great-great grandfather's lung after he was shot in a clash with Confederates near Antietam.
Faye Max said that while she was at the GBPA show in support of her husband, she has her own attraction to "old stuff," and has built her own collection of Civil War-era hair jewelry.
Paul DeHaan of Kalamazoo, Michigan, is an old hand at the Gettysburg show, estimating that he has been at 30 to 32 of the 44 GBPA shows over the years.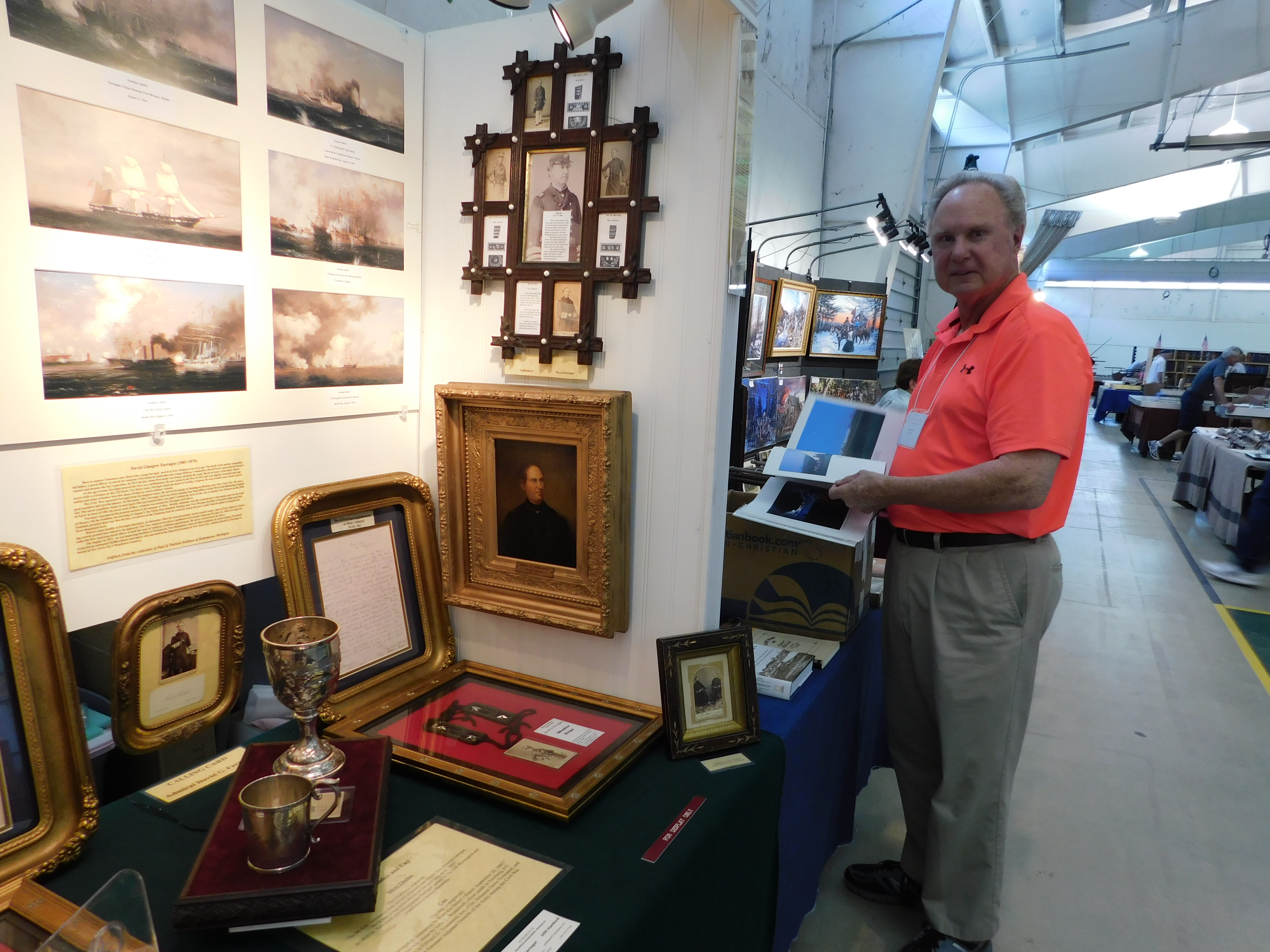 His museum-quality collection of memorabilia pays homage to Union Admiral David Farragut and his flagship, the U.S.S. Hartford. The centerpieces of DeHaan's display are a silver chalice engraved: "To Dr. S.D. Townshend from his old shipmate and friend, Vice Admiral David Farragut." Their friendship had begun in 1816 when both served on the U.S.S. Washington. Accompanying the chalice is an engraved silver cup that reads "Farragut to Townsend Jr. from his father's friend. Sept. 20, 1865." 
As a special promotion, GBPA volunteers had a table at the entrance on Saturday, offering free admission for persons who became association members. The GBPA added 22 to its rolls.
If you need more convincing that the GBPA Artifacts and Collectibles Show is the best show of its kind in the United States, take a look at our YouTube Video from a recent past show and you will be convinced.
The 45th GBPA Civil War Artifact and Collectibles Show is set for June 30 and July 1, 2018. There's no word yet on the weather forecast.