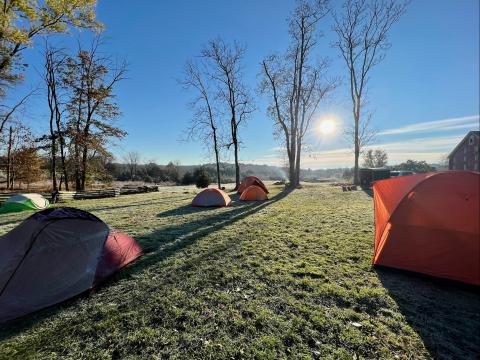 Dates: Apr. 21, 22-23 2023
This 2-day event will include educational workshops on Military Divisions, Drill, a Musical Presentation and even a Mock Battle!
Location: Daniel Lady Farm
SOLD OUT
Learn about the different branches of Civil War Military including:
Infantry – The foot soldiers who were the backbone of both armies.

Cavalry – Learn the difference between mounted and dismounted units, their roles leading up to and during a battle and the special care that had to be given a battle horse.

Artillery – It took a unit of men to maintain and fire just one cannon. Learn the responsibilities of each position and experience the sound of a cannon firing.

Signal Corps – Long before cell phones or even telephones, how did the military communicate over long distances? Message bearers could take too long, get lost or even captured. Learn how the Signal Corps could send messages quickly using the language of flags.

Medical – Not long after a battle started, the Medical Corps would start the gruesome task of caring for the injured. Learn about triage, amputations and the medical discoveries and procedures that are still being used today.
Help set up Civil War style company tents, get issued a soldier's haversack and wooden rifle, learn to drill and move as a unit following an officer's commands. End your weekend by participating in a mock tactical battle where decisions made on the field determine the victor!
Special program on Saturday night – Kent Courtney, a well-known Civil War musician, will present American History through Song. Learn the back stories of Americas most well known and loved traditional songs.
Camping fees remain the same for this weekend - $12.50 per camper per night. The Immersion event is an additional $25 per scout (adults/chaperones only pay the camping fee).
Scouts keep the haversack and its contents as well as a custom event patch. Wooden rifles are available for $10 pre-purchase along with your immersion ticket. Those not purchasing a rifle will be issued a loaner wooden rifle to be returned at the end of the weekend. GBPA will provide Saturday dinner and Sunday breakfast to all campers, including adults/chaperones.
Your unit must be registered to camp at the Daniel Lady Farm that weekend in order to participate in the event. Camp registration form CLICK HERE.
To register for the event and purchase rifles CLICK HERE - SOLD OUT
Any additional questions, please email camping@gbpa.org.
Unit leaders, CLICK HERE for more detailed information.