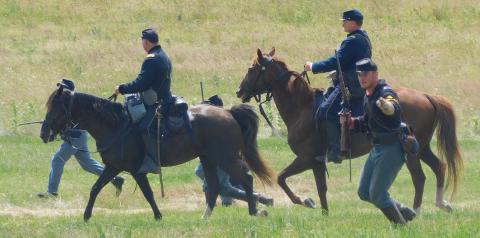 4:00 pm
Historic Daniel Lady Farm
1oo8 Hanover Street
Gettysburg, PA 17325
United States
This event is postponed until 2019 because of an accident to the lead participant.
On September 22 and 23, the Historic Daniel Lady Farm will host a cavalry reenactment for the first time.
The scenario from the war's Western Theatre will be a reenactment of the battle of Brice's Crossroads in Mississippi in June of 1864 when a contingent of Confederate cavalry under Gen. Nathan Bedford Forest outflanked a superior Union force.
GBPA Vice-President of Operations Kirk Davis said there are already 45 mounted Southern reenactors committed to the even and 25 dismounted trooper. Enlisted Union cavalry currently numbers 20, with 20 dismounted troopers and about 35 infantry.
In addition, about 45 living history participants and speakers will be on hand.
The $10 entry fee for people thirteen and older includes a tour of the Daniel Lady farmhouse and barn, which were a Confederate field hospital during the Battle of Gettysburg. Children 15 and under are admitted free when accompanied by an adult.
"This will be a great opportunity for people to get an up-close look at cavalry operations and
how the troopers cared an outfitted their mounts," said Davis. The event is still accepting reenactor registrations. The registration fee of $15 includes a dinner for reenactors Saturday evening. For more information, contact info@gbpa.org.