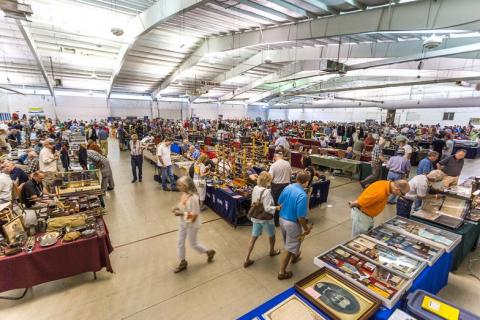 Eisenhower Hotel & Conference Center - Allstar Expo Complex
2634 Emmitsburg Road
Gettysburg, PA 17325
United States
The Civil War Artifact and Collectibles Show is the GBPA's major fundraising effort and one of the nation's premier artifact and collectibles events. Held annually on the last weekend in June, the show attracts over 200 respected dealers from all over the country.
We're looking at a record-breaking 330 tables this year, up from last year's 300, and the most vendors ever.
Location; Gettysburg Allstar Expo Complex, 2638 Emmitsburg Road (South of the Gettysburg National Military Park)
Vendors set-up; 12 noon to 7:00 PM on Friday, June 23
VIP pass holders ($100) are admitted during the vendors' set-up and the Saturday and Sunday times.
Show hours
Saturday June 24, 10 a.m. – 5 p.m.
Sunday June 25, 9 a.m. – 2 p.m.
 
Admission: Adults $8
Children under 12 admitted free