The 1st Pennsylvania Volunteer Reserve Corps (Venture Crew 1861) performs The Battle Cry of Freedom at the Lancaster Barnstormer's Stadium in August, 2014 as part of Support Homeless Veterans Services Day at the stadium. 
[Video courtesy of Peter Johnston]
The 1st Pennsylvania Volunteer Reserve Corps (Venture Crew 1861) performs a Memorial Day tribute to PRVC Veteran, Thomas Judge on May 30, 2015 at St. Mary's Cemetery in Lancaster, PA. Thomas served as a drummer, Company B, for the duration of the war: 1861-1865.
 [Video courtesy of Peter Johnston]
Schedules:
The Fife and Drum Corps (FDC) has an extensive musical performance and Civil War reenactment schedule that takes members from playing for visitors at the Gettysburg National Military Park, to battle reenactments in Virginia. While it is a busy schedule, not all FDC members attend all events. A schedule of events is continuously updated on the group website. 
Membership, Instruments, Uniforms, Etc.: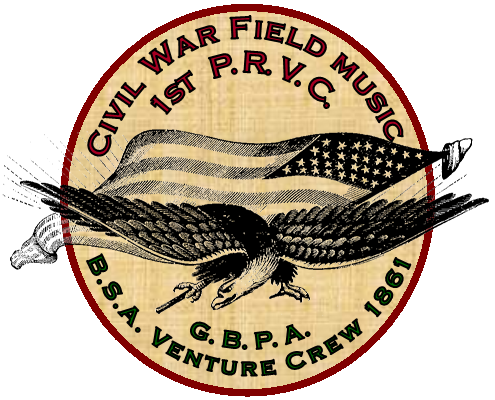 Current members hail from all over Pennsylvania and Maryland. Venturers (aged 13-20) may also take advantage of BSA High Adventure regional and national opportunities. Musical instruments, Civil War uniforms and equipment are provided by the FDC although some members own their own. The Corps also provides group instruction in fife, drum or bugle, and participates in special instructional events.  As a practical matter, drummers have some outside background in rudimentary (snare) drumming; fifers have a music background in another instrument and are trained to the fife by the corps; buglers begin as accomplished trumpet players. Musicians are always welcome. Infantry rifleman or flagbearer positions may be available in the Venture Crew's Color Guard/ Company C, 1st PRVC. 
Musicians/Scouts do not have to be Venture Crew age to participate in the Fife & Drum Corps. Boys and girls age 11 through 20 are accepted. FDC members pay dues and event fees to cover operating costs; uniform, instruments and equipment are provided by the Crew and the generous contributors to the GBPA Fife and Drum Fund
Join us in this unique scouting adventure!
Join our Civil War reenactors through any of these groups. Ages 11-20 accepted. 
BSA Venture Crew 1861
Open to all young men and women, 14 -20 years of age, (Or 13 years of age and completed the eighth grade)
Any Boy Scout with interest may participate while maintaining their Troop affiliation.
Others, please contact us!  Geography is not a barrier to membership!
Youth aged 11-20, or adults, interested in Civil War music and reenactment, contact us!
For more information, send us a message or contact: 
Michael Cassidy
Venture Crew 1861 Advisor
P.O. Box 63, Maytown, PA 17550 
Email:  fifeanddrum@comcast.net
Ph. 717-426-3941 Cell# 717-368-1235 
Join us on Facebook    
Website: www.fieldmusic.org 
You can support these activities by contributing to the GBPA Fife and Drum Fund